My friend Sugano-san is having a weekend long party in Shibuya this weekend, exhibiting album jackets he's made in the past.
I threw his Japanese email into Google translater and pasted the incorrect (but somewhat entertaining) translation below.
Hopefully see you there!
—-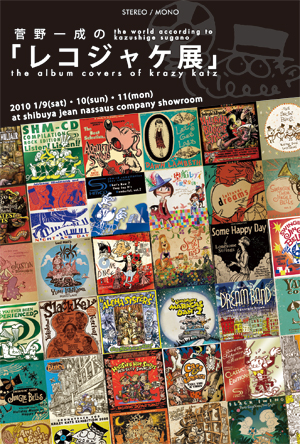 The exhibition 『Kanno Kazunari』 Rekojake-the album covers of krazy katz -
2010.1 / 9 (Sat.), 10 (Sun), 11 (Mon, Holiday)
12:00 ~ 19:00 (last day until 18:00) Admission free Venue / Showroom Gene Nassozu Kamupani
Tokyo will be holding an exhibition of illustrations of six years. The theme is "record jacket". Until now work has drawn me tell them all around the CD jacket illustration LP announced to expand the size of the record sleeve. Entitled "Exhibition of Rekojake Kanno Kazunari"! This major slump in the music industry, I'll have the most luck at the end of the industry's surprisingly eagle, Degozaiyasu I intend that I would like to watch.
We are available during the exhibition event and enjoy the music. Yeah賑the hope of the New Year mood Shii exhibitions, please feel free to seeing you Kudasaimasemase.
■ events during the exhibition
From the 9th opening party at 17:00
With 10 full-time staff happy DJ Sun DJ Party
Biburasuki (Betty Angelica), YAMA-SAN,
Yamaguti Kanae, Tetsuya Otake, Matsuno Tadashi, mother beard (SWING KIDs) … and more!
Grace Sun 11 & PonoLani Ishikawa says, Tamashiro Market,
There are special sachiko live with friends.
■ For more information and time and events, please check the official site.
http://www.suganon.com
■ business trip during the exhibition by willow coffee!
Cafe music venue will be like specification! I'll!